Feed the body, not the soul.
American Temples: late-night fast food in America. This collection combines my passion for architectural photography and night photography with the necessity of eating out dictated by a hectic schedule. Shot by available light, I confront my subjects head-on. Shot up close, with very short lenses, the journalistic style captures the glaring light of stark reality. The restaurants share so much in common: red neon, sharp angles, and glowing interiors. The red neon evokes strong emotions of love, warmth, and comfort. Red stimulates the mind and body, increasing heart rate, respiration, and appetite. Their gleaming tile and plastic surfaces hint at what some call plastic food served up with plastic toys. They are highly processed environments for consuming highly processed food. The buildings resemble places of worship—the mission style of Popeye's and Taco Bell, the Mayan style roofs of McDonald's and Pizza Hut, and the flying buttresses of McDonald's "Golden Arches". What is the sacrifice on the altars of these American fast food temples?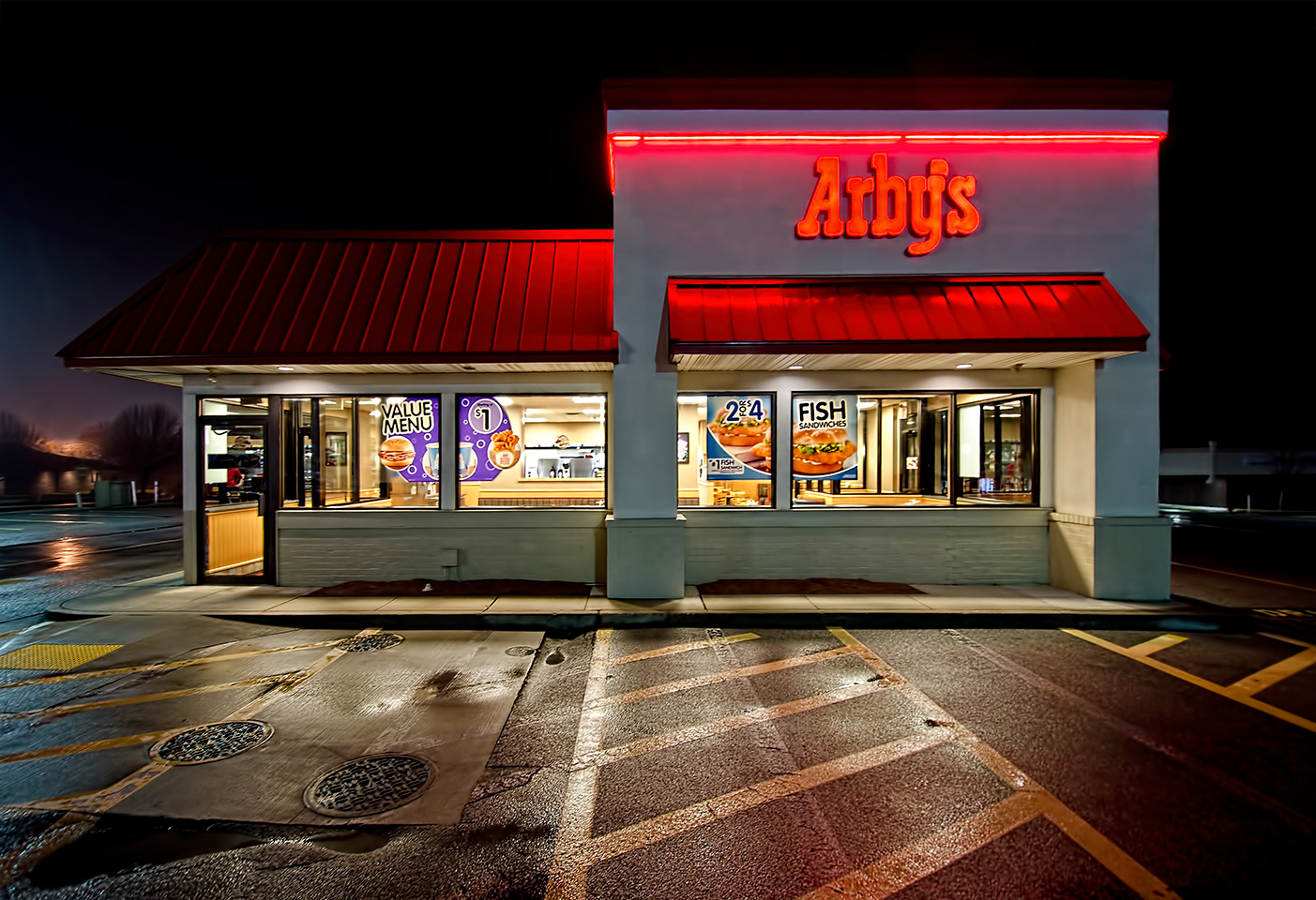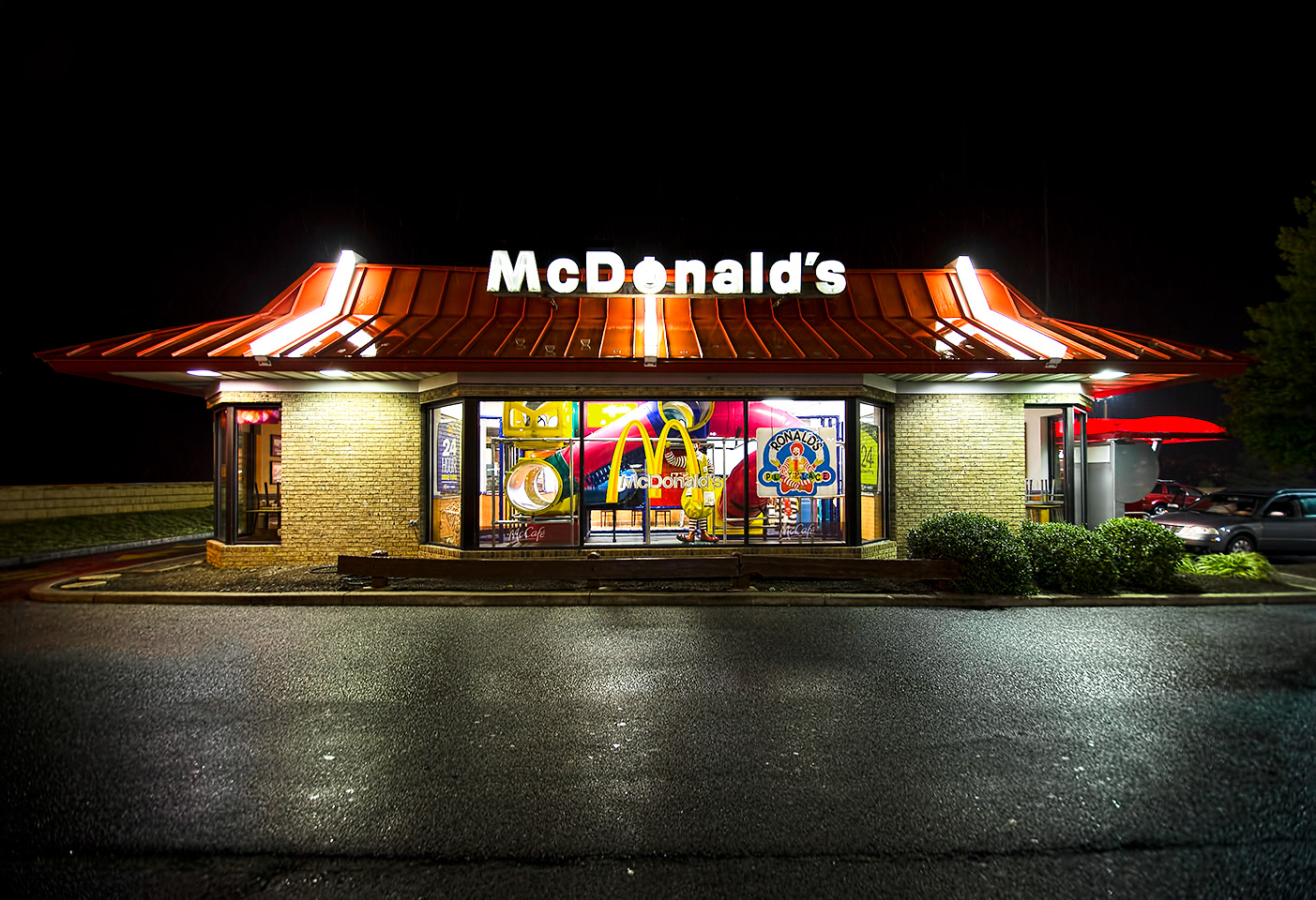 "It's finger licken' good" no more, Kentucky Fried Chicken officially became KFC in 1991. This store in Eldersburg, Maryland, was originally co-located with an A&W restaurant.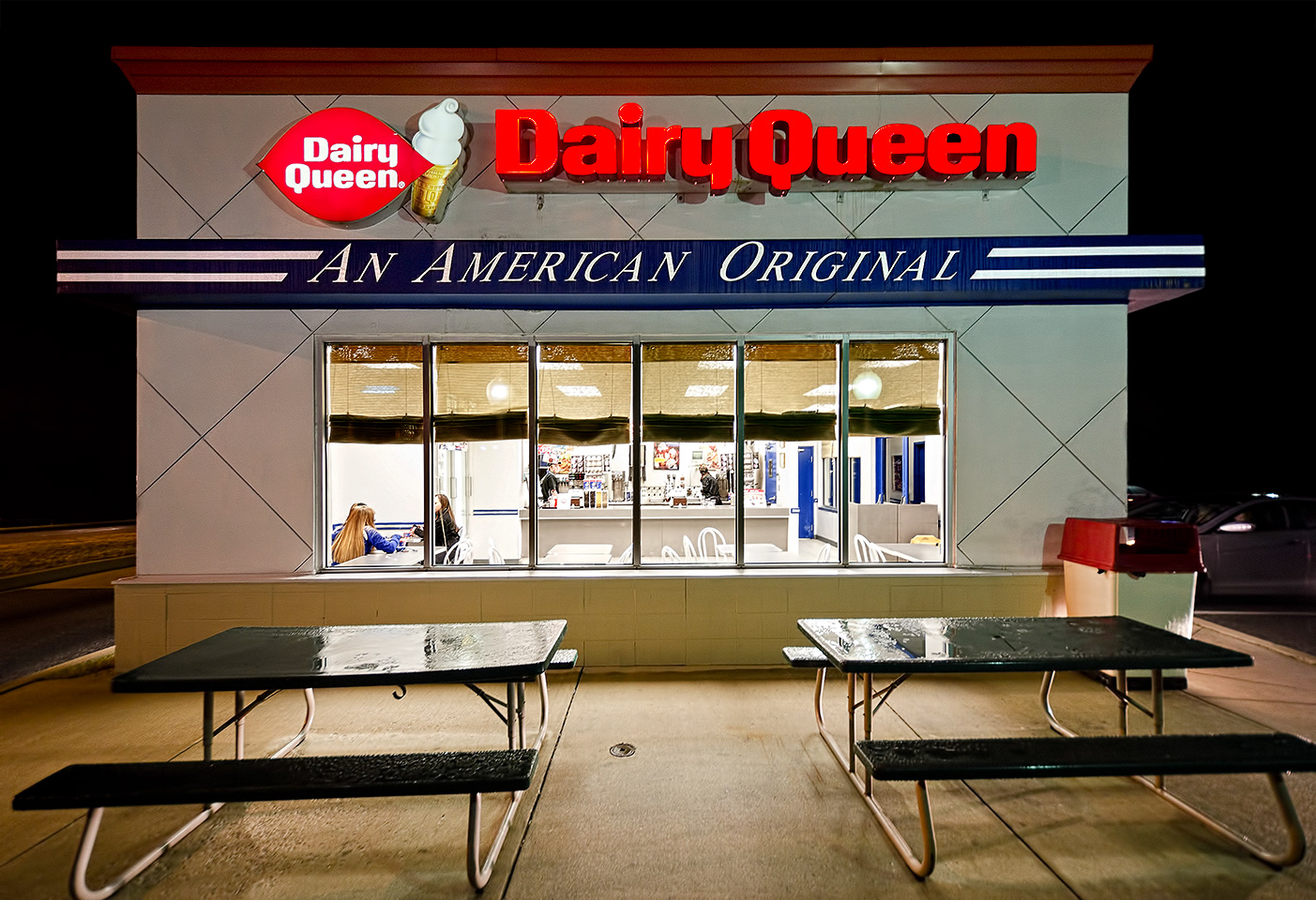 Home of the Whopper–Burger King restaurant design circa 1978. This restaurant is located in Eldersburg, Maryland.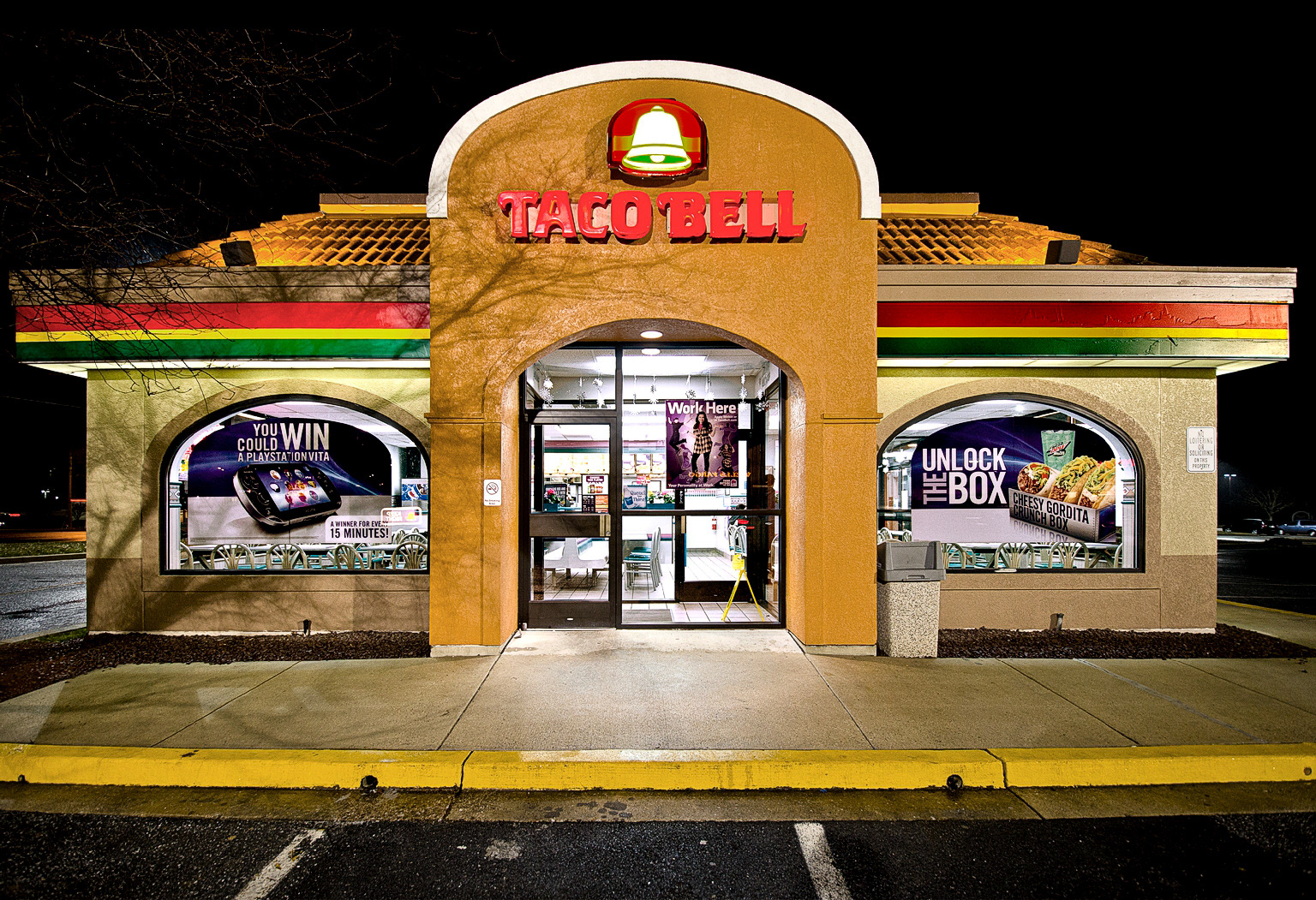 Founded in 1962, Taco Bell now has 6,500 restaurants serving more than 2 billion customers each year, mainly in the United States. This Taco Bell restaurant design from the 1980s is the most common Taco Bell design.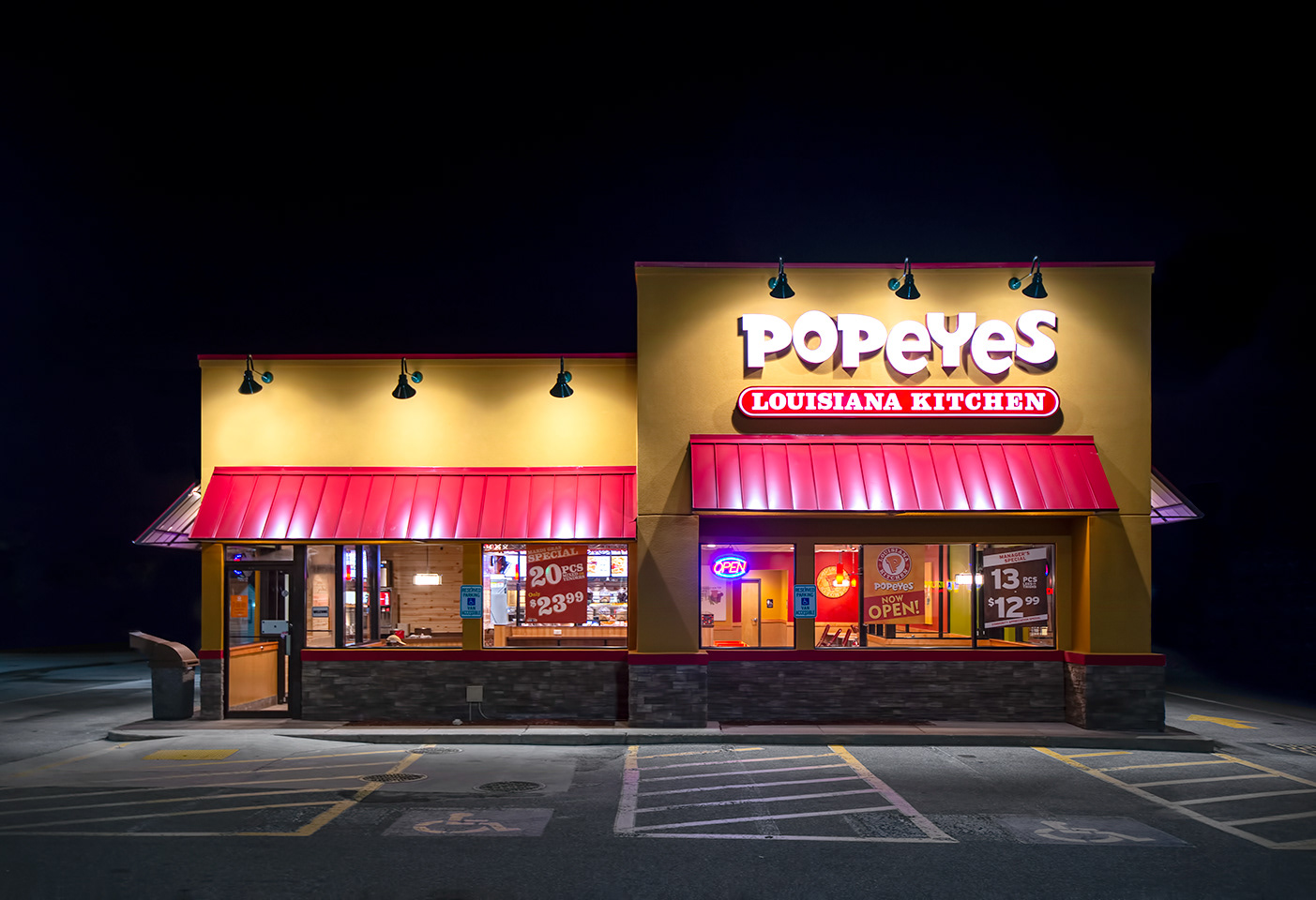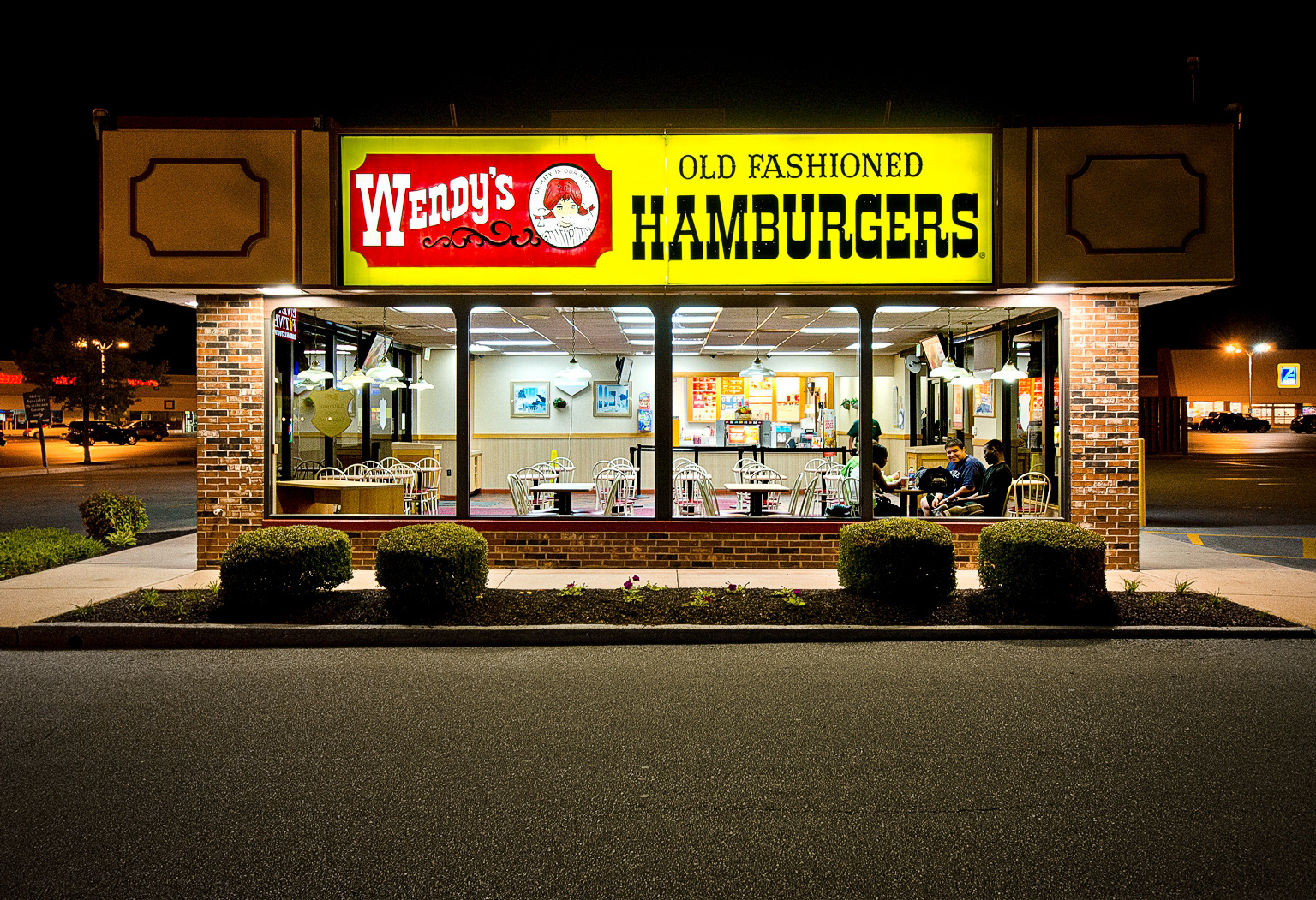 Wendy's restaurant design pre-1982. This Wendy's is located on Liberty Road in Randallstown, Maryland.

Checkers is a chain of double drive-thru restaurants located mainly in the southeast United States. Checkers was founded in 1986 in Mobile, Alabama. This drive-thru is located in Ellicott City, Maryland.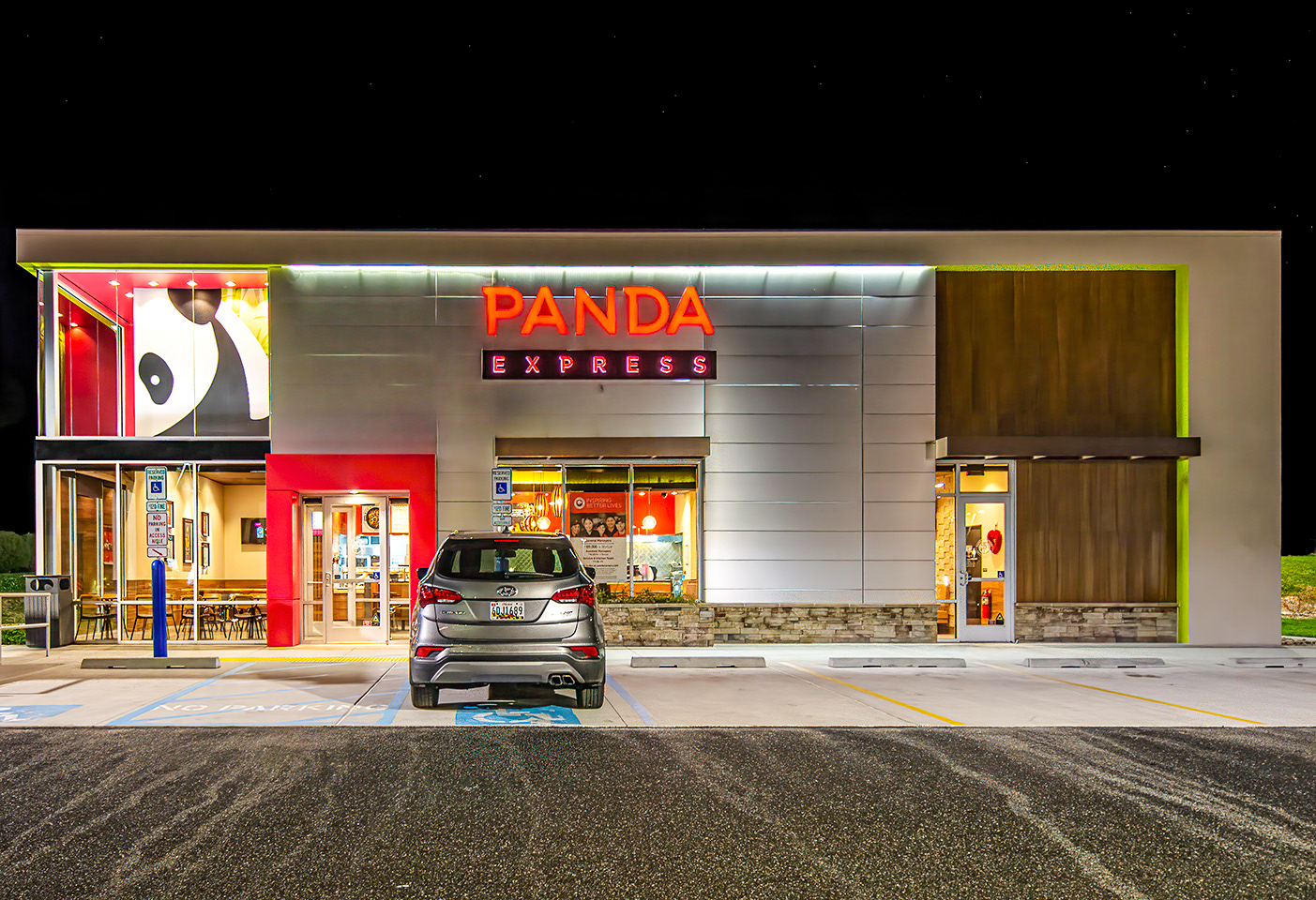 McDonald's introduced the PLAYPLACE design with crawl-tubes, ball pits and slides in the USA in 1987. This store is located in Hagerstown, Maryland.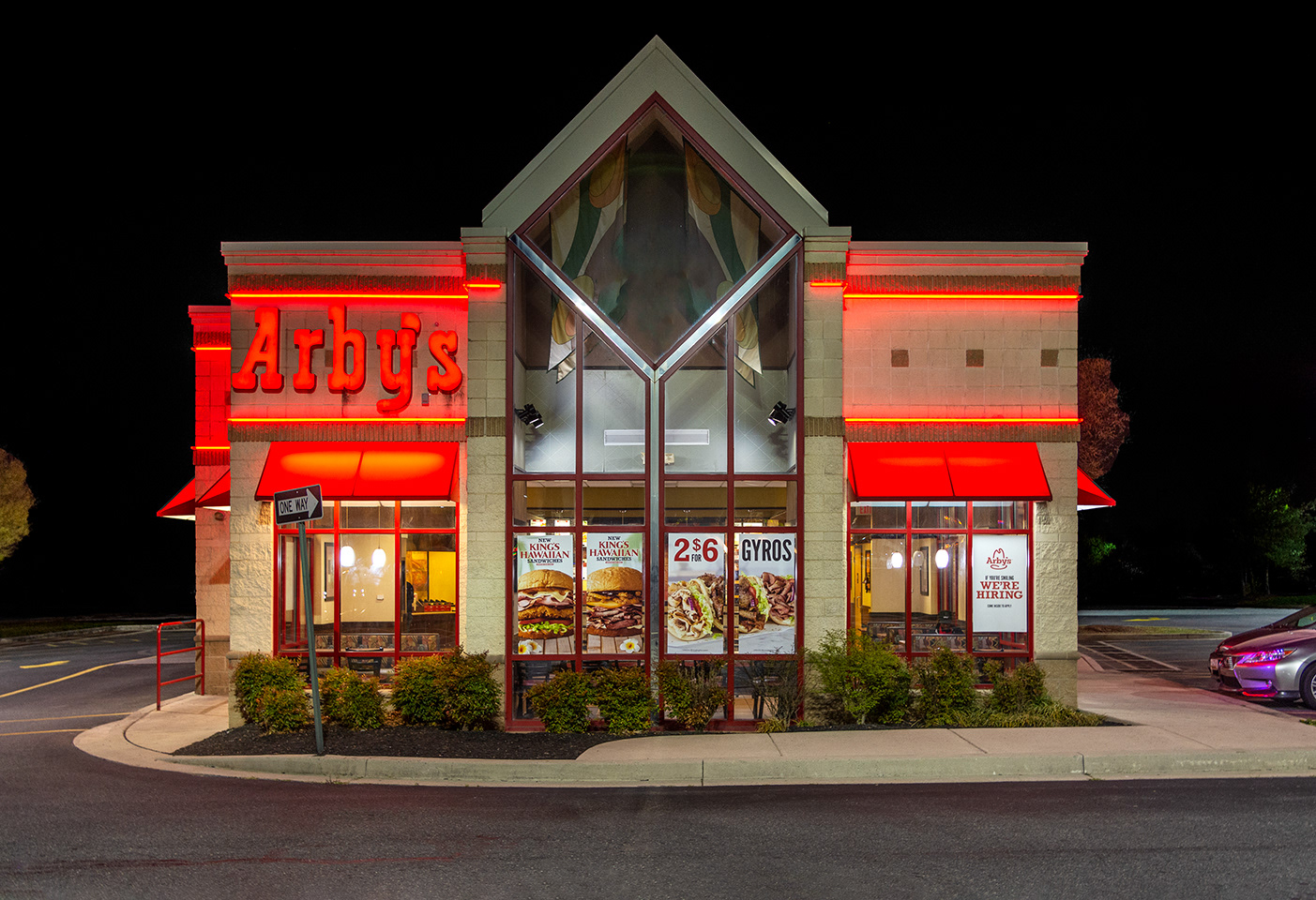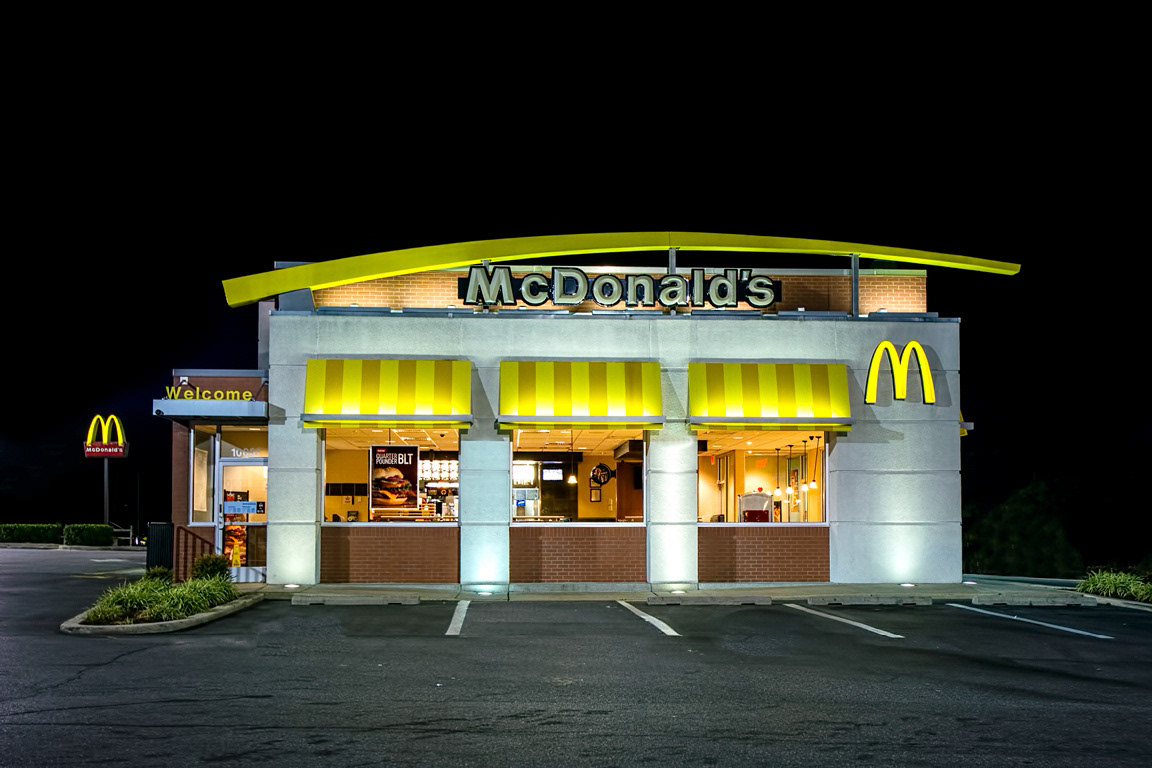 This new design for McDonald's is part of a $1 Billion effort to remodel or rebuild the majority of the 14,000 McDonald's by 2015. This McDonald's is on US Route 1 in Laurel, Maryland.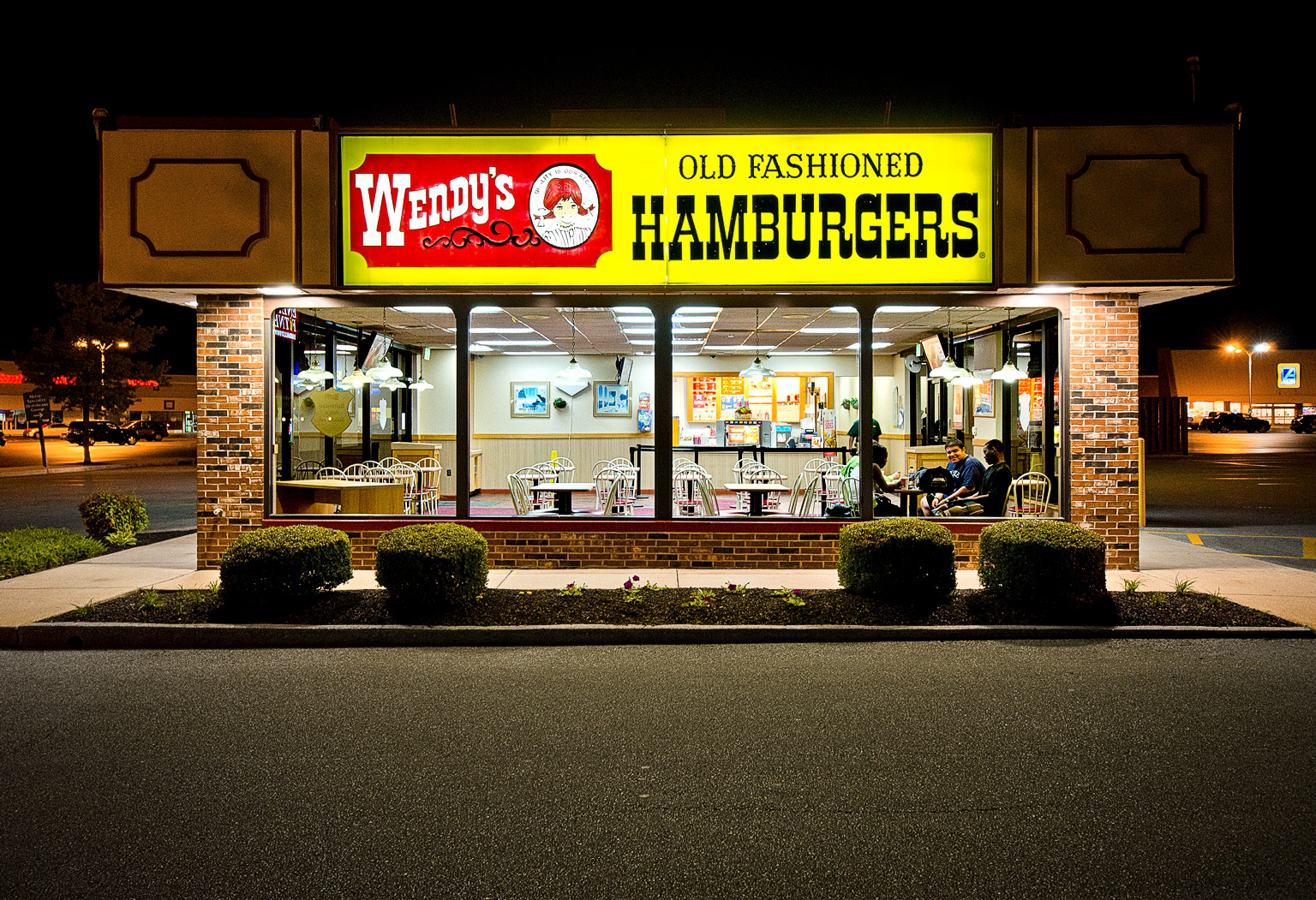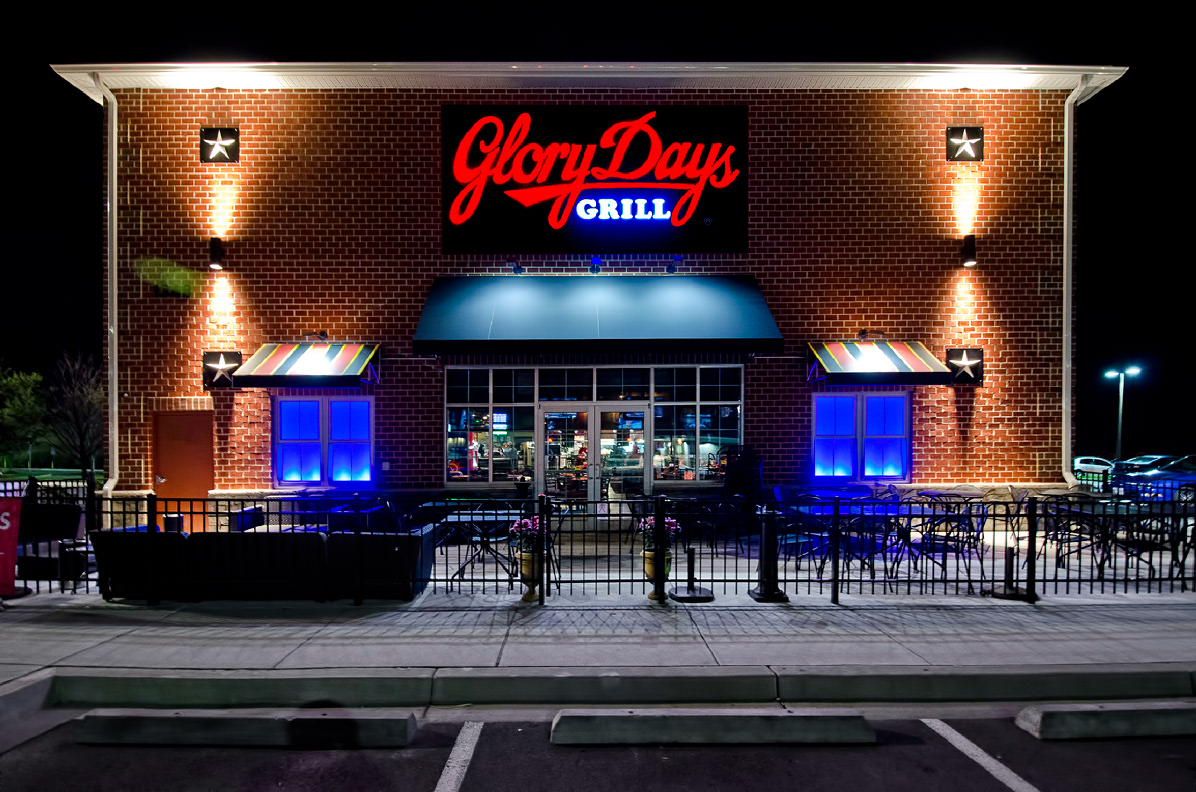 Jeff Newman, Richard Danker and Robert Garner founded Glory Days Grill. These three restaurant veterans came up with the idea for a neighborhood restaurant that also emphasized the positive attributes of sports. The first one opened in Burke, Virginia on April 16, 1996.
"American Temples" is available in a signed and numbered limited edition of 5.
Prints of the individual restaurants are available in signed and numbered limited editions of 15.
Prints are available framed or unframed. 
These archival pigment prints are made using Epson Ultrachrome K3 pigmented inks and Hahnemüle Photo Gloss Baryta Paper. 
Conservation frames are black aluminum with conservation grade mats, backing, and glazing. 
All prints are personally made by Daniel Humphries-Russ, signed and numbered by the artist.
Each print is accompanied by a signed Certificate of Authenticity.

For licensing information contact Daniel Humphries-Russ using the contact link at the top of the page.